Kleinburg Plumbing Contractors
Aquapura Water Products is your source for plumbers in Kleinburg, Ontario. Our plumbing contractors are fully licensed and experienced to take on almost any residential plumbing or commercial plumbing job. We have several plumbers on call and available to aide in your Kleinburg plumbing repairs and Kleinburg drain issues. We are your first and final stop for plumbers in Kleinburg area.
Kleinburg Plumbing Services:
Backflow Prevention / Cross Connection Control
General Plumbing
Hydro Jetting
Frozen Pipes
Sump Pumps
Leaking Toilets
Leaking Faucets
Plumbing Check Ups
Basement Floodings
Water Proofing
Weather Proofing
Burst Water Pipes
Sewage Backups
Shower Valve Replacement
Toilet Resealing
Bathtub Resealing
Hot Water Tank Installations
Tankless Hot Water Systems
Toilet Installs and Repairs
Faucet Installs and Repairs
Pressure Tank and Well Tank Installations
Drain Installs
Sump Pump Installations
Plumbing Inspections
Drinking Fountain Installations
Dishwasher Installs
Fridge Line Hook Ups
Drain Cleaning
Drain Unclogging
Drain Snaking
Water Leak Detection and Repair
Pipe Repair and Repiping
Water Softener Installs and Maintenance
Reverse Osmosis Installs and Maintenance
U.V Sterilization System Installs and Replacements
Emergency Plumbing Services
Leak Detection
Aquapura has plumbers which specialize in leak detection and leak repairs. In certain cases, a leak may be related to more than just a simple plumbing fitting. Plumbing leaks can also be caused by your applicanes such as washing machines, dish washer or fridge leaks. Whether it is a slow leak, big leak or any other kind of leak, our plumbers are able to track down that pesky leak and fix your leaks in Kleinburg.
Plumbing Inspection
Aquapura also offers Kleinburg plumbing inspection services in order to make sure that your plumbing is correctly up to code and efficient. Plumbing inspections are great for renovation projects, new installations or other instances where a large amount of new plumbing has been done. Plumbing inspections are also beneficial before plumbing projects have begun in order to give you an idea of how new plumbing is needed to be done. Whether it is residential, commercial or industrial plumbing inspections in Kleinburg, Aquapura has licensed plumbers Kleinburg to meet your needs.
Leak Detection Systems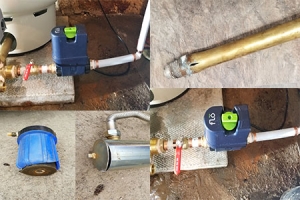 Aquapura is your Kleinburg Flo Leak Detection and Monitoring System installer. The Flo by Moen Leak detection system uses modern technology to monitor your Kleinburg plumbing for leaking plumbing and prevent small leaks and pipe freezing from turning into costly repairs and damage. The system communicates with your smartphone and will notify you if the leak detection system detects a leak. You are then able to respond and remotely turn the water off. The Flo Leak Detection System is also able to remotely turn the water on/off without having to manually close hard to turn valves or valves which may not be easily accessible. General installlation is less than your average dedcutible, which makes the Flo by Moen Leak Monitoring System a logical investment to preven plumbing leaks in Kleinburg.
Check out the complete inforaph on how the Flo System works.
Milwaukee Pro Press Tool and Fittings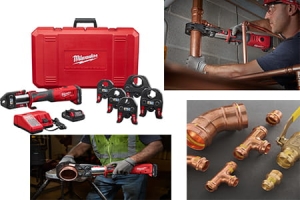 The Milwaukee ForceLogic Press plumbing tool is Aquapura's secret weapon to address special plumbing connections. It is not always possible to safely and accurately solder copper fittings due to issues like proxmitiy to flambale objects (gas lines, dry wood), ability to solder without damaging existing piping, working with water still in the pipes, or limited space which prevents soldering. This is where our Milwaukee ForceLogic Press tool comes in to action! The press tool uses battery operated hydraulics to compress the fitting and seal it to the copper line with an internal O-Ring. This water-tigh fitting connection is plumbing code approved for use in almost all residential and commercial applications and allows to make even the most difficult plumbing jobs look easy!
Poor Water Pressure and Water Flow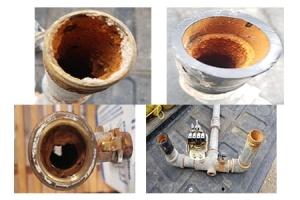 Many older houses have galvenized piping/fittings and even black piping/fittings throughout the houses plumbing. These fittings are no longer suited for potable water lines and for good reasons. These fittings are prone to cloggin up with sediment, rust, debris and even iron. The iron and debris clings to the walls f these pipes which can cause corrossion, potential leaks and a reduction in water pressure or even water flow. Aquapura is no stranger to dealing with this old outdated plumbing. Our plumbers are able to upgrade your household plumbing and commercial plumbing to more modern copper annd pex pluming. We hae the experience, fittings and the tools required fix your poor water pressure and clogged fittings.
Well Pressure Tanks and Well Tanks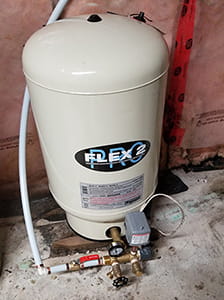 Those of you on well water/ private source water may notice a medium to large sized steel pressure tank in your basement or near you main water shut off . This pressure tank helps to pressurize the water in your house, without having to rely on your main well pump. If you did not have this pressure tank, your well pump or jet pump would be responsible for pressurizing the lines everytime you flushed a toilet, filled a cup of water or opened the faucet. This would be extremely demanding on your well pump and could lead to an increase in electrical costs and worst case cause your well pump or jet pump to fail prematurely. This is why it is important to make sure that your pressure tank is in working order.
Aquapura has licensed plumbers which can inspect and even service your pressure tank to make sure that it is in working order. in some cases, our plumbers are able to adjust the pressure switch to increase your pressure a little bit. These pressure tanks do not last forever and can slowly begin to fail or fail outright all together. If you notice less pressure, your well pump or jet pump is cycling more often, pressure drops fairly quickly, these are all signs that your pressure tank is on its way out. Aquapura plumbing offers affordable and quality made pressure tanks which meet your budget and requirements.
Water Softeners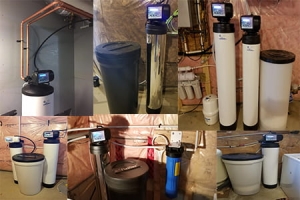 Water hardness and hard water in Kleinburg can cause your appliances to lose efficiency and longetivity. Scale the build up of scale can cause problems in the short-term and long-term. Additionally, hard water can prevent your soap and detergent from lathering and feel tough on your skin. Our plumbing contractors are experts in sizing and installing water softeners in Kleinburg. Aquapura offers high quality and high efficiency water softeners in Kleinburg. Our Purifiner PDS-30 water softeners can use as little as 5lbs of salt per regeneration and less than 50 gallons of water in some cases. Aquapura plumbing contractors will offer affordable water softeners to treat water hardness in Kleinburg.
Water Filtration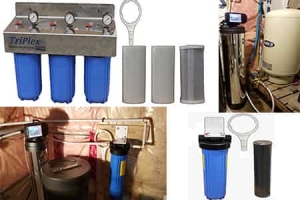 Tired of the chlorine smell of Kleinburg water? Worried about the effects of VOCs, Chloramines and THMs in Kleinburg water? Aquapura plumbing contractors offer affordable solutions to your Kleinburg water filter needs. Our economy cartridge filter systems are the most affordable options for filtering sediment and bad tastes & odours in Kleinburg. The filter systems can be installed by one of our plumbing contractors or sold with parts so you can install the system yourself! Backwashing catalytic carbon filters are the best option for reducing chlorine, chloramines, VOCs and THMs from Kleinburg water. Catalytic carbon has better filtration capabilities over regular carbon filters as it is engineered for better absorbtion of contaminants. The larger size of the backwashing systems over the cartridge filters means better contact time with the carbon and a better reduction in contaminants. Aquapura's Kleinburg plumbers will work with your budget and offer the best solution to filtering Kleinburg water.
Renovations and Additions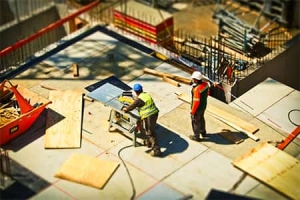 While doing major renovations to your house it is generally worth it to upgrade or run new lines for your plumbing as a lot of the plumbing will be accessible. This can prevent costly leaks and even increase the overall water pressure in your house. Aquapura has licensed plumbing contractors in Kleinburg , who are capable of upgrading your houses plumbing and perform the plumbing for your renovation projects. New construction and new additions will require modifications to your Kleinburg plumbing and even new plumbing. Aquapura offers quality and affordable plumbing solutions for your new construction and additions. Our plumbers are able to interpret engineered drawings and work with the other contractors and sub-trades in order to provide code compliant plumbing in Kleinburg.
Hot Water Tanks Gas/Electric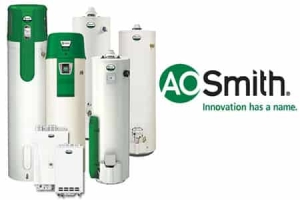 Feel like you are running out of hot water all the time? Is your hot water tank not keeping the water as hot as it used to be? Does your hot water smell like rotten eggs or iron? Aquapura's Kleinburg Plumbers can help to service and repair your hot water tank without breaking the bank! Hot water tanks have certain components which need to be maintained or replaced. A simple hot water tank heating element replacement could have your hot water tank heating as good as new! Switching to a better hot water take annode could get rid of the smell on your water! Save money and give Aquaprua a call for your Kleinburg plumbing hot water tank needs.
Are you looking to install a new hot water tank? looking for a more efficient hot water tank? Replacing an old, faulty hot water system? Aquapura's Kleinburg plumbers are certified to install electric hot water tanks, gas hot water tanks and tankless hot water tanks! We install namebrand hot water tanks and tankless hot water systems like AO Smith, Giant and Rheem. Give us a call to get an affordable price and quality installation for your hot water tank or tankless hot water system Kleinburg.
Sump Pumps & Battery Back up Sumps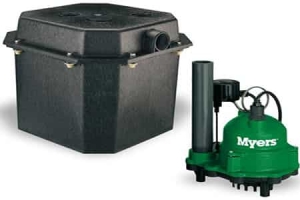 A lot of houses in the Kleinburg and New Tecumseh have Sump Pumps in the basement to evacuate the water and prevent the water from seeping inside from around the outside of your house. It is imperative to inspect and maintain these sump pumps as this could prevent major flood damage in your house. As a homeowner, you can inspect the sump basin for anything foreign objects or loose cables which may intefere with the float or sump. This will prevent the sump from working properly and may lead to basement flooding. Sump Pumps do not last forever and will wear down depending on how often they are running per day. Certain parts, like the internal impellar or check valves may be replaced by Aquapura's Kleinburg plumbers. In most cases, it will be more feasible and reliant to install a a new sump pump. A new sump pump and check valve will provide you the peace of mind that your basemend will be safe from a sump pump failure and basement flooding. If you are in an area with lots of water and your Kleinburg sump pump is constantly running, it would be wise to invest in a battery back up sump pump. These high efficiency back up sump pumps will activate when your house loses power. This way you know that you will still have a sump pump even in the event of a power outage. The back up sump will also activate if your primary sump pump stops working. Aquapura is your Kleinburg plumber for sump pumps and back up sump pumps.
Tankless Hot Water Heater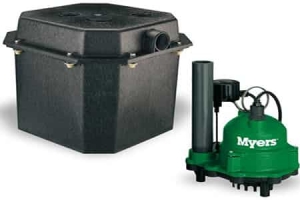 Tankless hot water heaters are getting a growing amount of attention due to their advantages over traditional hot water tanks. Tankless hot water systems have several advantages over hot water tanks which may make them a better solution to your domestic hot water needs in Kleinburg. Aquapura Plumbing & Heating Kleinburg services and installs several brands of tankless water heaters in Kleinburg.
One major advantage of the tankless hot water systems is it's space saving design. The system can be mounted on the wall and takes up significantly less space than a hot water tank. The "On Demand" tankless system can supply a virtually endless amount of water. This is great for larger families which require larger amountsof hot water and find that they are running out of hot water with their tank systems.
Aquapura Plumbing & Heating Kleinburg can help suggest the best form of hot water demand to meet your family's needs
Local and Trusted Plumbers
It can be challenging to find the best plumbing companies in Kleinburg. Our Plumbers are local and experts in common plumbing issues in the Kleinburg area. Aquapura has plumbers who are professional and willing to aide in your plumbing needs in Kleinburg.
Related Links:
Mulmur, Ontario (Main Store)
Aquapura Water Products
938311 Airport Road
L9V0M1
(705)-466-1144
Shop With
Confidence